A Look Back to Our Beginnings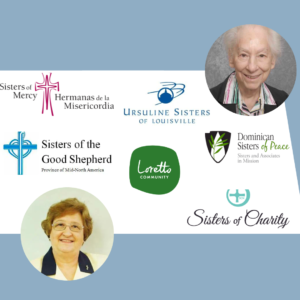 Family Scholar House has a rich history, originating in 1995 as an organization for Louisvillian mothers, then known as Project Women. Individuals from the Ursuline Sisters of Louisville, Sisters of Charity of Nazareth, Sisters of Loretto, Dominican Sisters of Peace, Sisters of the Good Shepherd, and Sisters of Mercy joined together with the vision to support single mothers pursuing post-secondary education. This vision was brought to life and was the catalyst for providing housing, support, and resources to the families served. Change makers like Sister Anne Mary Lochner of the Ursuline Sisters and Sister Lucy Marie Freibert of the Charity of Nazareth Sisters were committed to supporting women as they strived in the classroom to earn the college degree they needed to enter the workforce and provide for their families. Sister Lucy Marie Frebiert, a professor at the University of Louisville, knew this vision would have a great impact on not just this generation but generations to come.
Project Women and these philanthropic women were the catalysts for what our organization has been able to become. We officially became Family Scholar House in 2008 and to date, we have five residential campuses across Louisville that are home to 279 families.  In 2022, we served 72,000 individuals across 32 states. We have new campuses coming to Elizabethtown, Louisville, and Houston, Texas. This would not be in the cards without the strong foundation, faith, and vision these women shared. Our mission at Family Scholar House is to end the cycle of poverty and transform our community by empowering families and youth to succeed in education and achieve life-long self-sufficiency while simultaneously honoring and carrying the legacy of the Sisters' Project Women.  
Post Details
A Look Back to Our Beginnings
Published by Deja Jackson on October 18, 2023.
Last modified on November 4, 2023
Post Details
A Look Back to Our Beginnings
Published by Deja Jackson on October 18, 2023.
Last modified on November 4, 2023