Full Circle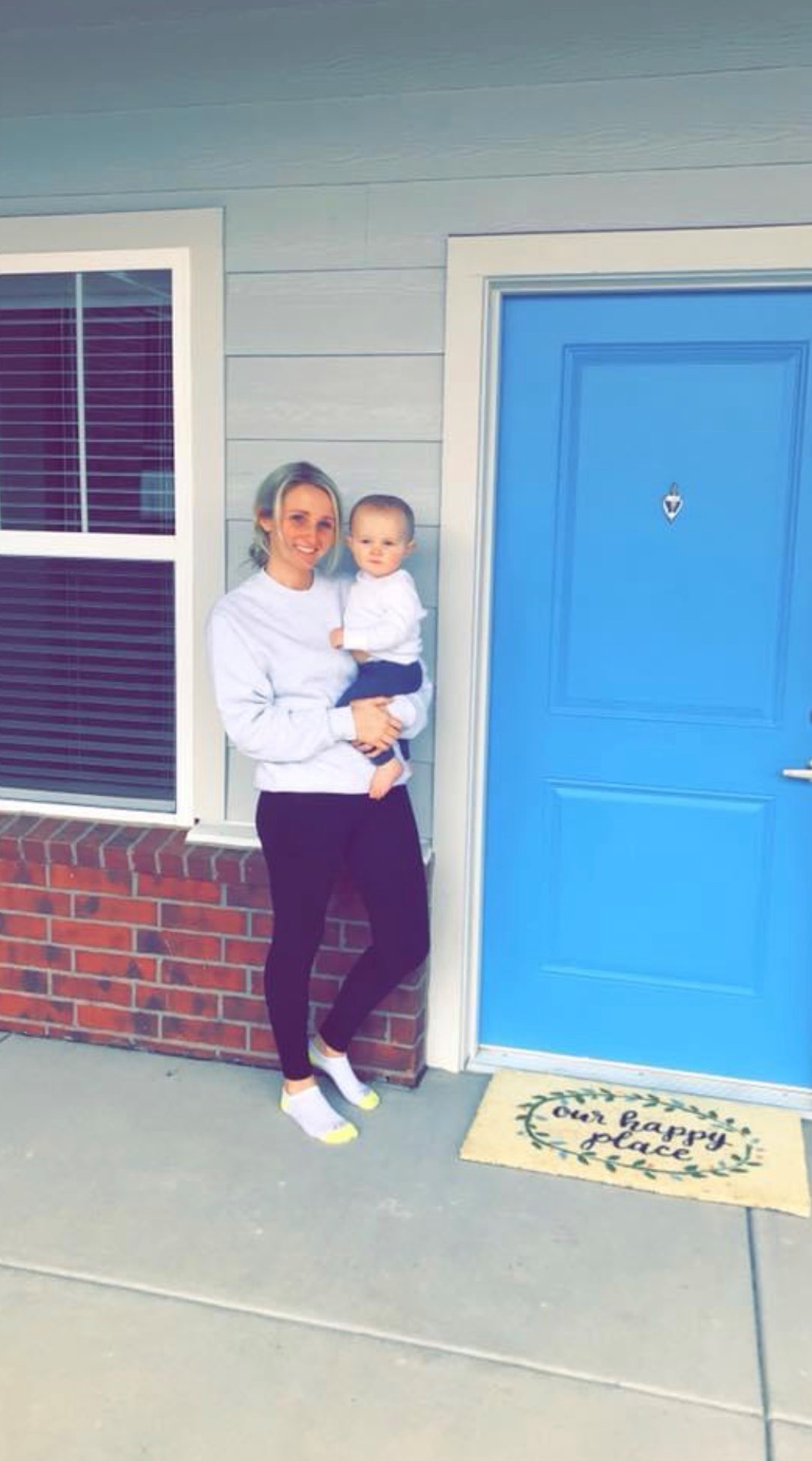 I was 20 years old when I found out I was pregnant. I wasn't finished with school. I was dating someone who was continuously abusive, and, at this time, my life felt hopeless. I was having his baby, we were going to have to deal with each other forever now. How was I going to get anywhere in life? My family lost hope in my future, so naturally I did, too. When I gave birth to my son, Liam, I realized this is not what I wanted for him at all. He deserved a happy home, a peaceful space to learn and grow, and I was determined to give that to him. When I discovered Family Scholar House and what they had to offer, I knew I would do whatever it took to become a part of the program.
I moved into the Riverport Family Scholar House when I was 21. I had two years of school left and Liam was about to turn one. The longer I was a part of Family Scholar House and the more I learned about everything they do, the more I fell in love with it. It gave me a new perspective of what being a single mother means. Society often views single parents as having a disadvantage, but Family Scholar House gives single parents the opportunities to achieve self-sufficiency, and empowers the families to achieve anything they put their minds to and work hard for.
I am proud to say I was a part of this organization, and I found a confidence I didn't know existed. The FSH family made me feel special, they continuously acknowledged my success and believed in me more than anyone else ever had. I was so lucky to become part of a community with other men and women who, like me, experienced many trials and tribulations but made the choice for themselves and for their children that they wanted more. We wanted to beat the odds. Entering the Family Scholar House program not only motivated me to finish school, but also motivated me to do the best I could do. I had an academic coach who I reported to each month to discuss my grades and set goals for myself. There were many people I didn't want to let down, so this lit a fire inside of me. It led to me graduating with a 3.9 GPA, and also winning the "Outstanding Student Award" in my school's program. I had achieved more than I ever thought possible, and I gained new confidence that I could really do anything I wanted to do if I worked hard for it.
I graduated from Indiana University Southeast with a Bachelors in Art with a focus in Organizational Communication studies in May of 2020. Graduating during the pandemic was not ideal; however, I did what I could do to get some experience within my field and did the best I could – just like everyone else – to survive the pandemic. Family Scholar House was by my side every step of the way. They made sure I had what I needed, and FSH staff kept up with me for an entire year after I graduated the program to see how I was doing in my career. Kate called me one Saturday afternoon and talked to me about a job opportunity that was coming available at FSH. I honestly thought she was talking about a random job listing she had found that fit my skill set, but when she mentioned the possibility of working for Family Scholar House, I couldn't believe what I was hearing. When she knew I was interested, she said, "Let's talk on Monday about more details and make sure it's a good fit for you." But I already knew it would be a good fit: Family Scholar House is where I belong.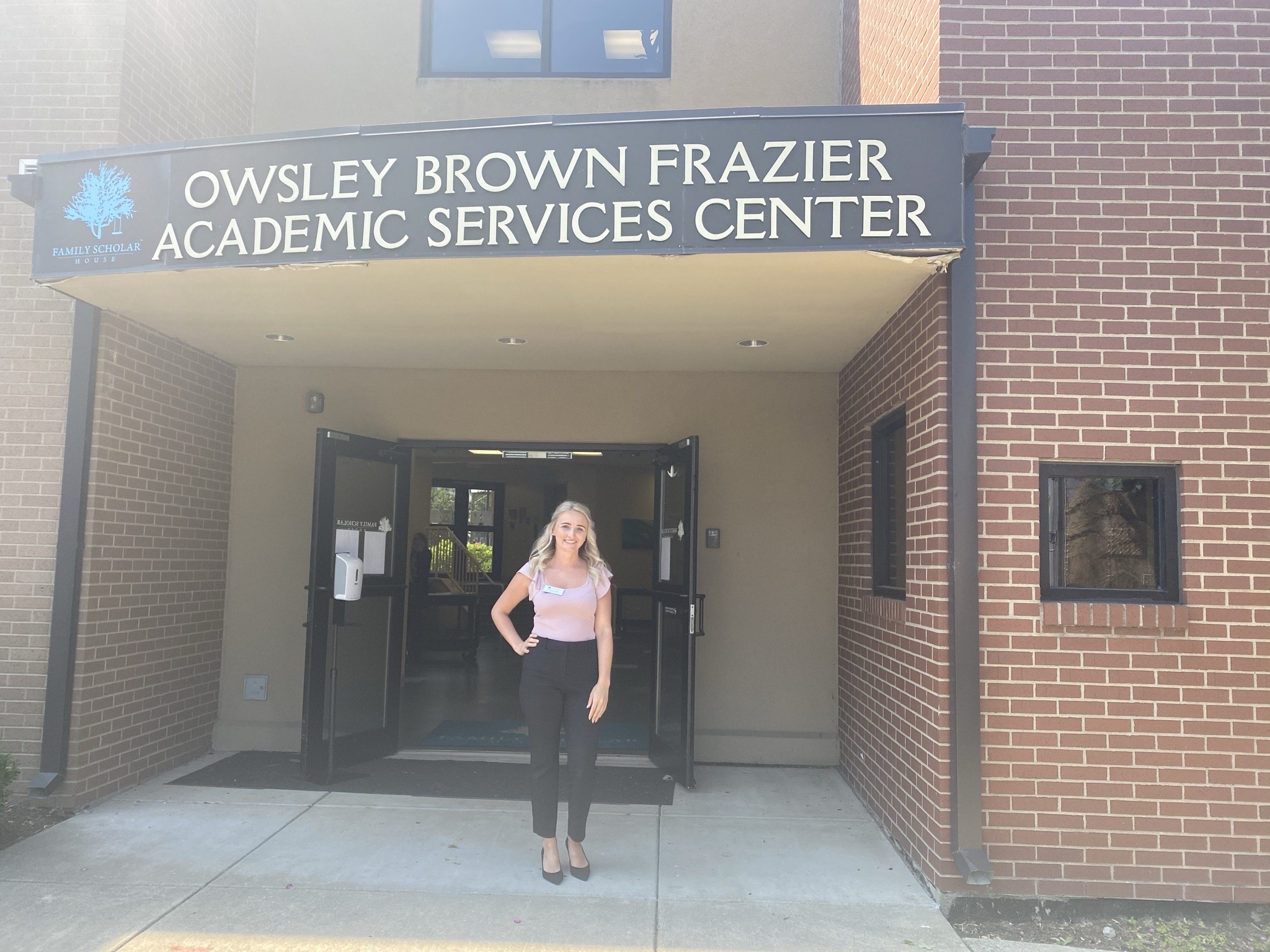 I've now been here for two weeks as the Community Engagement Specialist. I am responsible for social media and engaging the community with Family Scholar House. Unsure of how I would enjoy being on the other side of the program, I was a bit nervous it might change my perspective on how great the organization is. However, it didn't take me long to find out that it runs just as beautifully on the organizational side as it does when you're a participant in the program. I never would have thought I would land my dream job only a year after graduating in the midst of a global pandemic. Now, I have a career.
Family Scholar House not only helped me to achieve self-sufficiency, but they helped me find my purpose and fulfillment. Not only am I working for an organization I believe in, but I'm giving back to the community that did so much for my family. I am now able to relate to and help the participants whose shoes I was once in. I cannot express how proud I am to be a part of this team, and I can only hope I am able to further the FSH mission and help make a difference in the lives of single parents just like me.
Post Details
Full Circle
Published by Kate Brackett on June 10, 2021.
Last modified on August 10, 2022
Post Details
Full Circle
Published by Kate Brackett on June 10, 2021.
Last modified on August 10, 2022