Keneysha Cowden's Story: A FSH Alumni
I am Keneysha Cowden, a former FSH resident, graduate, current supporter, and lifetime participant. The campaign f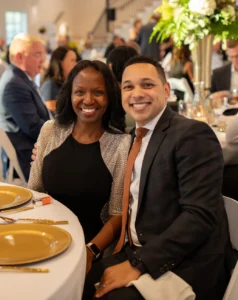 or the Elizabethtown Family Scholar House is called Home for Hope and Hope is very much a part of my story. I was raised primarily by my mother, in a single-parent household. Unbeknownst to my sister and I, we were raised in poverty. I excelled in school and eventually went off to college where I realized disparities exist. I had the brains but not the habits and support needed so I dropped out of college and fell in love.
My husband was restationed in Fort Knoxed and after a year I found myself preparing for divorce. I was devastated. I contemplated moving back home to North Carolina but something in me said STAY. With that bit of direction, I decided to Radcliff and build a life for my girls. I needed a job that allowed me to work at least 20 hours a week, so I could keep my childcare benefits. After a long search, I received a call from Brenda Gayler requesting to interview me. She hired me but the job was part-time and only 2 weeks a month. This was several hours shy of the 20 hours/week. I eventually had to take another job so I wouldn't lose my subsidy. Thankfully, in the nick of time, Brenda worked it out for me to work 20 hours. I was elated. 
Next, I tackled continuing my education. I knew I needed a career and the only way to do that was to go back to school, so I enrolled in college at ECTC. I needed a win. I wasn't successful at a 4-year university before and didn't want to overwhelm myself. I needed a win! I went to the advisor and she said you only need 30 more credits to graduate with your associate's degree. That was motivating.
When I finished I knew a local university like the University of Louisville would be next. They directed me to a program called Project Women – which eventually became Family Scholar House. I was very thankful for a non-traditional wait list because I needed housing now! I worked the program, making the 45-minute drive to events to show my participation. I did this for several weeks before I received the call that I was accepted to the program. I remember pulling into the campus and being given the card to open the gate to my community. I felt so fancy. I also felt safe! Another core memory is walking to my apartment for the first time and seeing the big red door! The red door was distinguishing, this was our home and something my girls could distinguish from the other apartments. 
I realized, during the FSH graduation surrounded by all of our supporters, this is bigger than me. I knew there was a whole community not only supporting me but counting on me. It was more motivation to continue and be my absolute best. While at FSH, the girls and I received community support in many ways like companies providing scholarships which helped me graduate with my bachelor debt free. There were tons of volunteers who shared their resources and talents like cooking and exercise classes, tutoring for my kids, chess lessons, and the list goes on and on. This community support was what I needed during my first round of college. This is what I needed to thrive.
There are many stories of success both similar and different than mine. I graduated from the University of Louisville with a Bachelor of Social Work in 2012, and in 2013 I graduated with my master's degree. I eventually met and married my wonderful husband Brandon Cowden. We have 3 beautiful boys Miles, Micah, and Max. The girls are now 20 and 19 and serving in the US Army. I obtained dual licensure as an LCSW and LMFT.  I worked for the US Department of Veteran Affairs and founded my private practice incidentally called Hope Journey in my current home in Fort Worth, Texas.
I am so excited there is a campus coming to ECTC to serve this community. This will be transformational for people like me. 
Post Details
Keneysha Cowden's Story: A FSH Alumni
Published by Deja Jackson on October 18, 2023.
Last modified on November 4, 2023
Post Details
Keneysha Cowden's Story: A FSH Alumni
Published by Deja Jackson on October 18, 2023.
Last modified on November 4, 2023