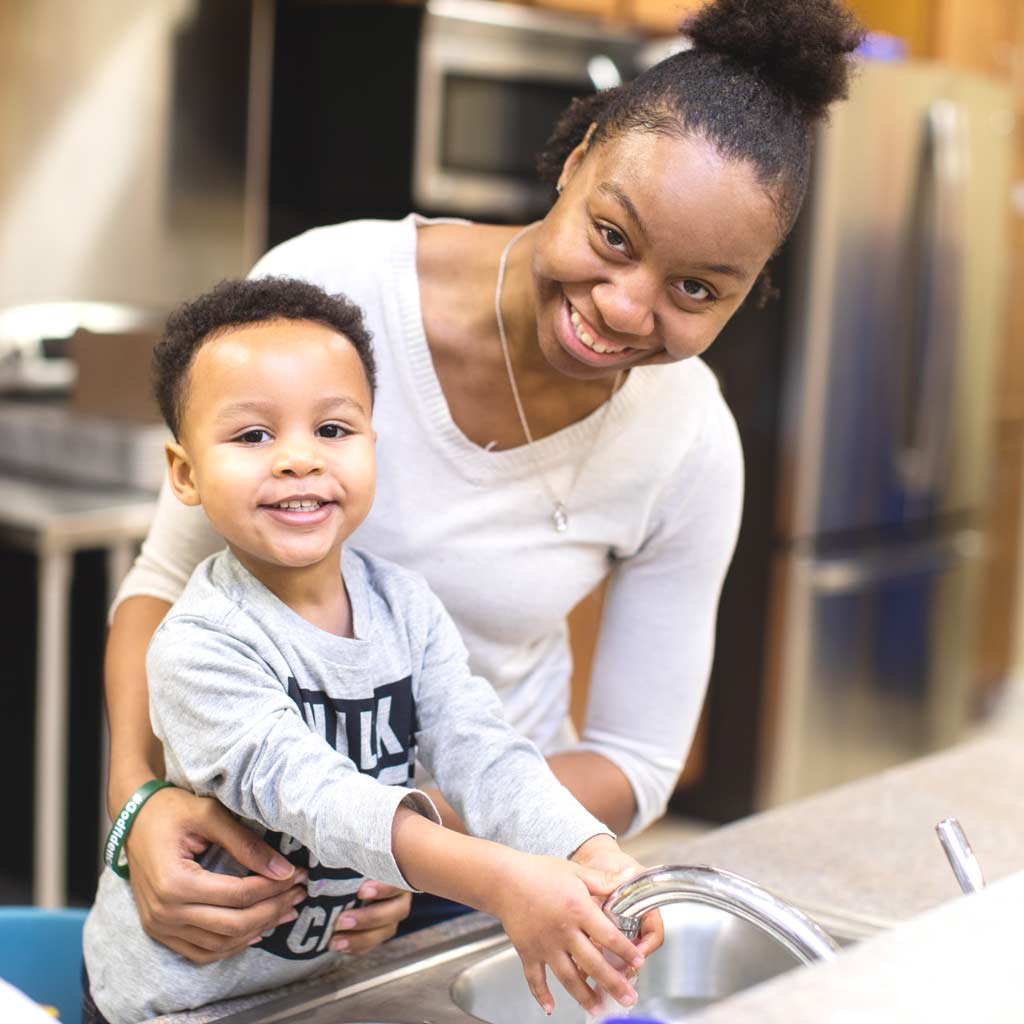 Jessica was 18 with a five-year-old son and she was scared.
It had taken all of her courage to meet with us. She wanted to go to college and, while doing so, she needed a place for her and her son to live and be nurtured. Jessica found family at Family Scholar House.
Find Support at Family Scholar House
Trager Response Center
Family Scholar House is a free resource to support student and family success both inside and outside the classroom. Contact us for immediate support.
Apprenticeship Programs
Family Scholar House provides support for potential students, current students, and their families as they transition into work and apprenticeships.
Academic & Career Coaching
Participants looking to enroll in the accredited colleges or apprenticeship programs of their choice to pursue the courses of study they prefer, with the goal to obtain a post-secondary certificate or degree.
Advocacy Support
Family Scholar House assists participants in obtaining needed support services and helps them address barriers to education.
At Family Scholar House We Are Believers.
We believe in the power of education to change lives, families and communities. We believe in second chances and fresh starts. We believe in the resilience of the human spirit. We believe that our past is part of us but does not define us. And, we believe in the wonderful single parents and young adults who come through our doors determined to make the most of new opportunities.
Read More About Us
Expanding the Communities We Serve
Louisville, Kentucky Metropolitan Area
Family Scholar House, based in Louisville, KY has 5 residential campuses, home to 247 single-parent families and 32 foster alumni — all pursuing post-secondary education. In addition, FSH provides supportive wrap-around services for students and their families across the community.
Elizabethtown, Kentucky
Collaborating with Elizabethtown Community & Technical College (ECTC), FSH is glad to be a partner in preparing area residents for new workforce opportunities. In addition to having an office and staff at ECTC, Family Scholar House is working with the college and community leadership to build a residential campus for student-parent families. Stay tuned for more updates.
Ivy Tech Sellersburg Campus
Family Scholar House has a long history of serving residents of southern Indiana and collaborating with Ivy Tech Community & Technical College; soon we will begin construction of a residential facility there as well. Look for more news to come.
Houston, Texas
Through a partnership with Brinshore Development, Family Scholar House was invited to bring our program model to Houston. Things really are bigger in Texas and, with 77 apartments, this campus will be the largest in the number of residential families of all FSH locations.
An Ever-Growing Network of Affiliates Supporting Our Communities
We have expanded our network of affiliates in order to better serve communities across the country. Use an interactive map to locate and read about each of our current affiliates. If you are interested in learning more about becoming an affiliate, click to learn more.
Read About Our Affiliates