Louieconnect.com Provides a Helping Hand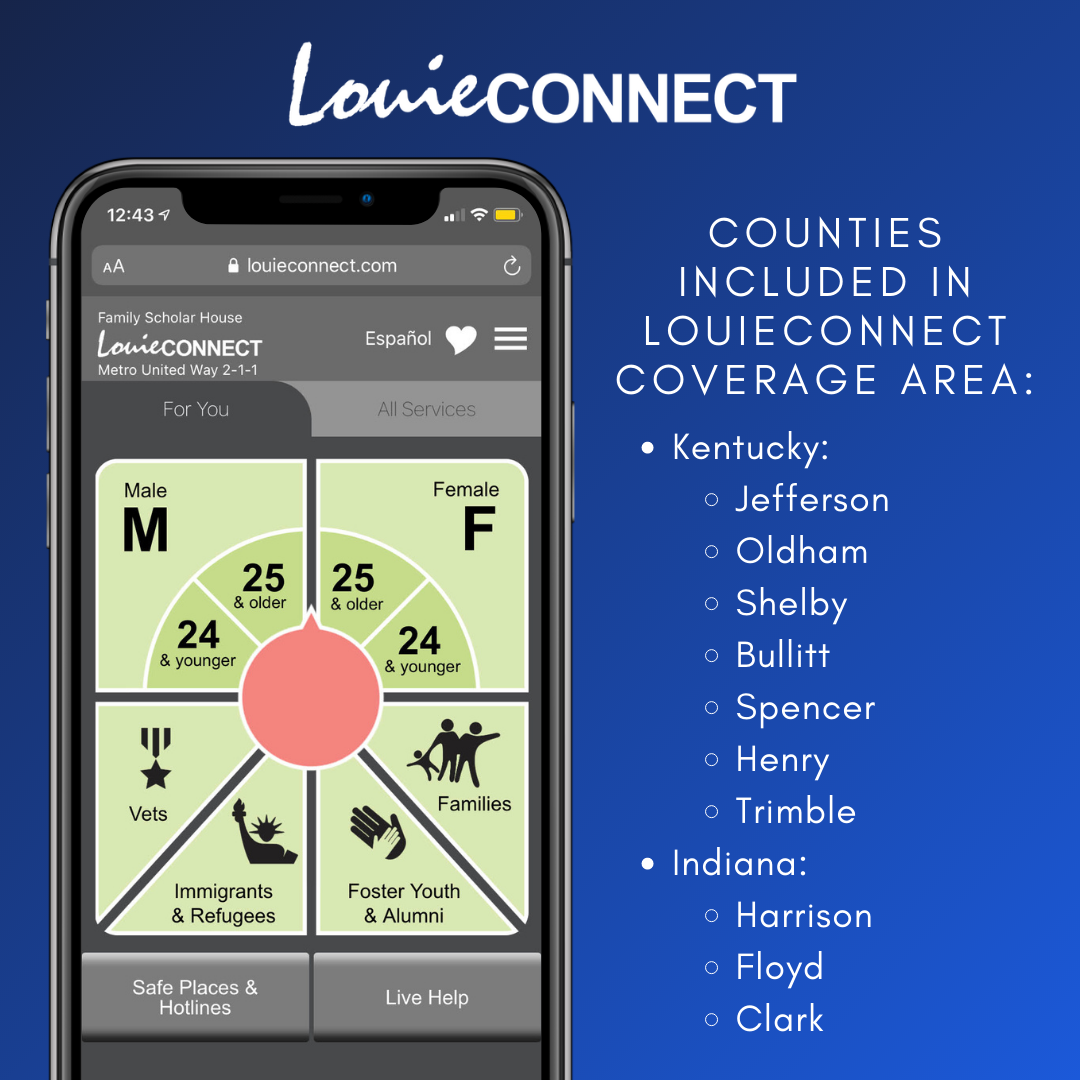 We have all had those moments where we need help and are unsure where to turn. Often our pride, or fear for our safety, keeps us from asking for the assistance we need. When individuals are in need, we want to make sure a helping hand is free, easily accessible, up-to-date and safe. From that desire, Louieconnect.com was created by Family Scholar House in collaboration with Metro United Way's 2-1-1 program. It is our community's safety net web-based app.
LouieConnect.com pulls together free services in our community that provide support for people experiencing a difficult time or in need of assistance. The "For You" dial allows the user to filter the results specific to them by gender/age, family status, and other specialized demographics. It provides all of the information needed such as location, hours of operation, and any requirements (if applicable) to receive help. Louieconnect.com is a one-stop-shop for every service needed. It can direct people for help with essentials (food, diapers, shelter) as well as programs and services (medical, parenting programs, addiction) and so much more.
The LouieConnect.com team has had the privilege of being at many different community events and connecting with other resources in the Louisville area to help build our database and increase our reach in the community. One such event that we were proud to be part of was a conference at Hotel Louisville, which is home to Wayside Christian Mission, a long-term shelter and job training program for those experiencing homelessness. While at the conference a member of our team started a conversation with a young lady who was part of the catering staff. As they talked, she shared her story of having been in foster care, experienced homelessness, and was now training to work in the culinary industry. Our team member shared with her the section of LouieConnect.com that is specifically for foster youth and alumni. As she looked through the resources for those in her situation, her eyes welled up with tears and she responded, "I didn't know there were so many people who cared about people like me." That's what LouieConnect.com does. That's what our community does. We let people know that there are people who care and want to help. Everyone deserves that kind of support.
Post Details
Louieconnect.com Provides a Helping Hand
Published by Kate Brackett on December 29, 2020.
Last modified on August 10, 2022
Post Details
Louieconnect.com Provides a Helping Hand
Published by Kate Brackett on December 29, 2020.
Last modified on August 10, 2022