My FSH Band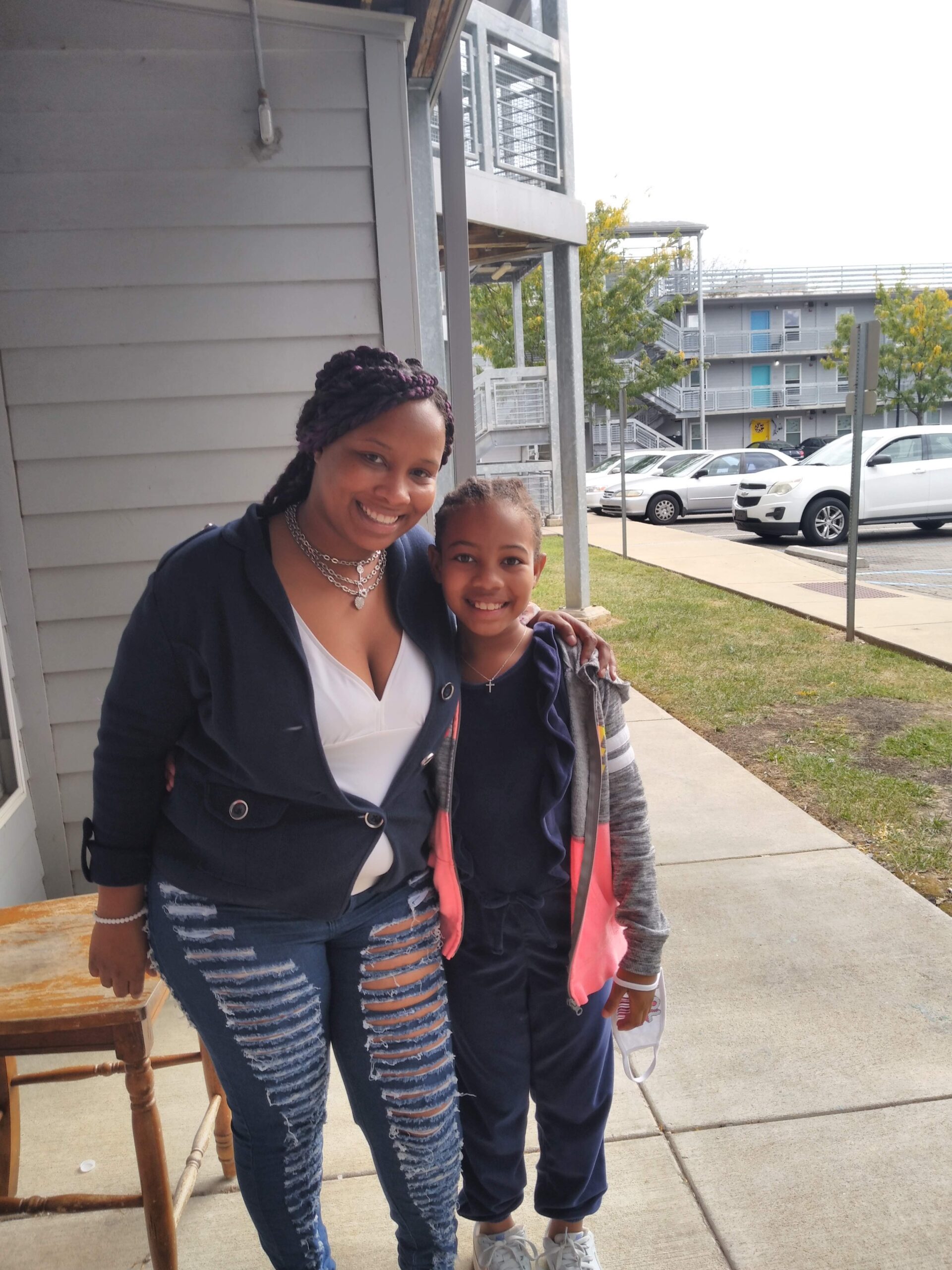 Family Scholar House is where I call home. I am currently pursuing my Associates Degree in Business and Human Resources. My hope is to live out every possible dream that comes to my spirit. I moved into FSH because I wanted to be able to do more, not only for myself, but my daughter as well. To me, the Family Scholar House has been a reset button. It is a place where I came and reset my thoughts, feelings, and goals. It has been a place of healing and  growth for not only me, but also my child, and the other families that share this space with us. To me, Family Scholar House is a place of unity where everyone can come together as mothers, children, students, and working single parents. We share our stories in support of one another, to show each other that we are all worthy, and that a reset is okay.
My drive to start over was what brought me to Family Scholar House. I wanted to go to school and get a degree to further my education. The people here showed me that I am capable of attending school while simultaneously providing for my family and being engaged in my child's life. They assured me that asking for help is okay. The FSH staff has impacted my life the most while living here. They are like my band: I am the lead singer, but they are my instrumentalists. Without the drums, I could not rock out with all the confidence and perseverance in the world.  Without the piano, I could not have that gentle melody moment that gives me peace of mind. Without the trombone, the clarinet, or the guitar, I could not have that sustained stability that I've always needed. My band has helped me to grow into the woman that I am today. The woman I am now is much more than I ever could have imagined, simply because of Family Scholar House.
I will continue on, even through the uncertainties of this year, by simply going back to what I've learned. I will focus on what I have accomplished already and be proud. I will remain present in the moment and stay true to myself. I will take opportunities that are right for me and keep people and things around that are good for me. I plan to go far and be okay with who I am, standing in my own truth. I think the world is often willing to let everyone tell them what self-love and self-care looks like, but that doesn't always work. I am going to figure out what that looks like for me, whether that is running an errand, taking a bath, or going for a walk.
I want my daughter to see my strength and experience it for herself. We have a bond where we know that we are not the same, but we complement each other. We support each other; I always want her to feel comfortable opening up to me. I want us to ask those deep questions that allow us to better understand each other and also better understand ourselves. She is everything I wanted to be growing up. She is so confident, strong, smart and outgoing. I love her entrepreneur spirit, her crazy dance moves and how she looks up to me for everything. I will continue to try my hardest to be the best version of myself, so that she knows to be unapologetically the best version of herself as well. I am taking everything I've learned and applying it to my journey. I hope for a great future for my daughter and me. I know we deserve it.
Post Details
My FSH Band
Published by Kate Brackett on January 29, 2021.
Last modified on August 10, 2022
Post Details
My FSH Band
Published by Kate Brackett on January 29, 2021.
Last modified on August 10, 2022