Philanthropy and the Power of the Trim Tab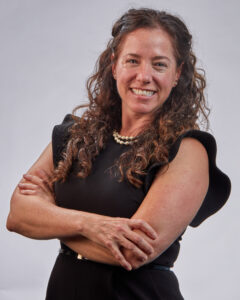 Hi! My name is Betty, and I'm the newest member of the philanthropy team here at Family Scholar House. While I'm new to this organization, I've been fortunate enough to spend my career in nonprofit public service, from residential treatment programs to academia to healthcare. If I haven't had the opportunity to meet you in person yet, I look forward to when that time comes.
To get started in my work as the lead for our fundraising team, I've recently been on a "listening tour," meeting and hearing from many of our supporters. In their stories, I often hear the echoes of fear that some issues might be too large to solve – poverty, hunger, climate change – but also hope that maybe their actions might be enough to create meaningful change for someone.
Thinking of this space between fear and hope, my mind drifted to what may seem like an unusual place… a WWII naval invention. Specifically, my thoughts turned to a tiny but ingenious invention by Bucky Fuller: the trim tab. At the height of WWII, naval ships were becoming larger and larger. As the ships got larger so did the engine power necessary to turn the rudder. Out of this engineering challenge, the idea of the trim tab was born. This small strip of metal (as small as six inches in size) is attached by hinges to the rudder. Through careful positioning, and in combination with natural hydraulic force, the small trim tab makes a very large difference in the force required to turn the rudder. In essence, this six-inch piece of metal acts as a pivot point.
Being the innovative thinker he was, the success of the trim tab inspired another observation for Bucky Fuller. That is, if a small, well-placed strip of metal could make such a difference in moving a massive ship, what is the potential for a human being to act as a "trim tab" in relation to other big problems?
Pause for a moment and reflect: What are some times when you made a slight shift in your life that produced a major result? However slight those changes were for you, can you see their impact on your life today?
This is the power of acting as a trim tab.
You – our donor and volunteer – are our trim tab. Every time you make a gift, every hour you set aside to volunteer, those actions are small shifts, a push against the opposing force of poverty that help our hard-working families chart a better course for themselves and their children. If we haven't already met or spoken on the phone, I hope you'll reach out to me. I'd love to hear the story of the first time you gave, what motivates your philanthropy now, and your dreams for your philanthropic future. You can call or text me at (502) 475-9258 or send me an email at [email protected].
Let's remember to think and act like a trim tab . . . and discover what's possible.
Post Details
Philanthropy and the Power of the Trim Tab
Published by Deja Jackson on November 8, 2023.
Last modified on November 16, 2023
Post Details
Philanthropy and the Power of the Trim Tab
Published by Deja Jackson on November 8, 2023.
Last modified on November 16, 2023